Preface
I have tried to keep this guide as simple and non-technical as possible. For the purposes of this guide the words 'torch' and led 'flashlight' are interchangeable.  'Torch' is British English, whereas led 'flashlight' is more prevalent among North American speakers. They both mean a small battery-powered electric lamp.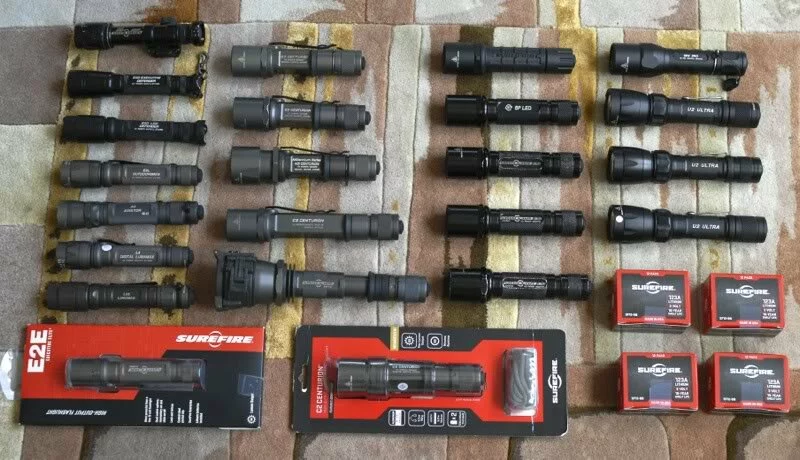 In addition, any information here refers to best LED flashlights from high-quality manufacturers. These include 4Sevens, DereeLight, EagleTac, Fenix, ITP, JETBeam, Nitecore, Olight, Surefire, Tiablo and WolfEyes. This is by no means a full list. We do not endorse any products from these companies unless we have tested them.
Highly Recommend: Top High Quality LED Flashlight for you to consider
Brand: MagLite

Model: MagLite Mag-Tac LED Flashlight

Max lumens: 320

Beam distance: 193m

Battery: 2 x CR123A

Case: Aluminum alloy

CREE XM-L2 (T6) LED technology

Waterproof: IPX

Size: (5.28 x 1 x 1) in & (4.8) oz
Brand: NITECORE

Model: Nitecore MT2A

Max lumens: 345

Beam distance: 152m

Battery: 2 x AA

Case: Aero Aluminum alloy

CREE XM-L2 LED technology

Waterproof: IPX8

Size: (6.1x 1 x 1) in & (3.1) oz
Brand: Fenix

Model: Fenix UC40 Ultimate Edition

Max lumens: 960

Beam distance: 200m

Battery: 2 x CR123A

Case: Aircraft Aluminum alloy

Cree XM-L2 U2 LED technology

Waterproof: IPX4

Size: (5.78 x 1 x 1) in & (5.2) oz
Brand: SureFire

Model: Surefire G2X Pro

Max lumens: 320

Beam distance: 152m

Battery: 2 x CR123

Case: Aero Aluminum alloy

Virtually indestructible LED emitter technology

Waterproof: O-ring and gasket sealing

Size: (5.2 x 1.25 x 1) in & (4.2) oz
What You Get From This Guide:
The Most Important Things Before You Buy The Best LED Flashlights?
Before you buy the LED flashlights, you should have a rough idea of what you need it for. This is the most important consideration of all. To take two extreme examples, a security guard will want a rather different light than a camper.  Do you work in the marine or aviation fields? Then you will need more sophisticated functions than someone just going for an evening stroll with the dog.
Think about this seriously. If nothing else, you could save a lot of money by not buying a state-of-the-art flashlight with a variety of impressive but unnecessary functions.
Whatever you do, don't open your wallet after listening to an awe-struck sales clerk. If you like what they offer, check out the online best LED flashlight reviews and comparisons with other products and prices.
Let's focus on what different LED flashlights offer in order to give you an idea of what you may or may not need.
Types of Popular Led Flashlight
When it comes to choosing the best flashlight for your need, the variety available can be somewhat confusing. There are many different types of best led flashlight, each with their own individual features and utilization. Below are some of the popular types of led flashlight available on the market.
1. Keychain LED Flashlights
These are LED flashlights which you will carry in your pocket with your keys. They have different capabilities with different battery configurations. The weakest, running on small button-sized batteries, provide a tiny speck of light so that you don't scratch your car while trying to find the door lock. Lights running on more powerful batteries can be used as a pocket torch.
Obviously, size and weight are important as you will be probably be carrying them with a bunch of keys, which themselves can be both heavy and bulky.
You may want to consider the material, too. Such lights are often made of anodised aluminum. This material is very tough, but the shiny black torch you removed from the packaging will look rather different after a few months of competing for space in your pocket with metal keys. Stainless steel is slightly heavier and more expensive but is not so susceptible to scratching.
Keychain led flashlights are widely available in different colours, are relatively inexpensive and can prove useful for most people in a whole variety of situations.
2. The 1 x AA LED Flashlights
You need a LED flashlight to carry everywhere but would like something brighter than a keychain led flashlight? A flashlight powered by a single AA battery could be a sensible option.
For one thing the batteries are available worldwide and are affordable for everyone. Moreover, as such flashlights are typically nine to ten centimetres, they can be stowed in your jacket pocket or rucksack without you noticing that they are there.
You would think that such devices running on one normal battery may have to make some compromise between output and runtime. Think again. Most best 1 x AA LED flashlights run for at least 60 minutes and more. Most of them have an output of between 100 and 140 lumens, (easily lighting 30 metres and more) and some are even more powerful. Several years ago, this would have been unthinkable.
In addition, you do not have to forgo the sophisticated functions found on bigger led flashlights. It is now possible to buy a single AA led flashlight which is fully waterproof with strobe, infinite brightness setting etc.
Perhaps the biggest difference between the various models in this category is the price. Expect to pay between $40 and $80 depending on the output, functions and manufacturer.
3. The 2 x AA LED Flashlights
You don't need to be a flashaholic to see the appeal of these lights.
First of all, as with their smaller 1 x AA brothers, the batteries are widely available and inexpensive.
Secondly, the length of these flashlights (typically 15-16cm) probably corresponds to people's perceptions of how big a led flashlight should be. Weighing in at between 55-85g (without batteries) they are easily portable.
The output, normally between 180 and 200+ lumens is more than adequate for everyday use. Not only that, the runtime on maximum, usually between 90 minutes and two hours, is highly respectable. On lower levels these lights run for hours, or even days.
Nearly all of them have a good variety of brightness levels and most run on rechargeable batteries, too.
Although they cannot be regarded as stow-and-go lights, they make a great addition to any household tools you require in an everyday or emergency situation:
Power cuts,
Checking suspicious noises outside,
Walking the dog, back-up light in the car,
Searching for mislaid items during your evening barbecue.
For a camping holiday in a mobile home, such a led flashlight may also be worth thinking about or even as a low-cost alternative bike light.
Flashlights powered by 2 AA batteries look uncannily similar; the only difference is the price tag. You should expect to pay between $50 and $90.
4. The 1 x CR123A LED Flashlights
This LED Flashlights running on a single lithium CR123A battery are small yet surprisingly powerful. These lights tend to look like cigars or even cigar butts, that is, short and stubby.
There are single CR123A keychain led flashlights and single CR123A pocket led flashlights available on the market. Both easily fit into your pocket, but you will notice a certain bulge (jokes aside) due to the battery's relatively thick girth. Weights range from about 20 grams for the keychain style, to close to 60 grams for the pocket version.
A typical 1 x CR123A keychain led flashlight is 60 millimetres long, which isn't much longer than the battery itself.
A 1 x CR123A pocket light will be about 90 millimetres in length. Expect an impressive 200 lumens, more or less, from this type of light, and a price tag from $20 to $80, depending on the body material.
When comparing single CR123A to single AA led flashlights, I found some interesting, and possibly troubling findings.
Firstly, the runtime for a CR123A battery led flashlight is just about the same as that for a single AA led flashlight. You would expect the more expensive lithium CR123A to out perform the AA, but our research shows that there is only a negligible advantage over the AA, certainly not worth the extra money paid for the harder to find battery.
The second problematic finding regards maximum light output. On high mode, the single CR123A led flashlights, on average, produce a beam 35% stronger than that of the 1 x AA led flashlights.
However, the cost of an AA battery is approximately 60% lower. So you really have to ask yourself, is the expensive CR123A battery worth the slight gain in maximum output? A 35% difference in lumens is noticeable to the human eye, but only barely. It certainly won't make or break your nighttime walk in the woods or camping trip.
However, a light running on CR123A batteries may be worth consideration for those planning to use it in extreme temperatures, as the lithium batteries are less sensitive to hot and cold climates than their alkaline counterparts. In addition, CR123A batteries have a ten-year shelf life – up to twice as long as alkalines
If you already own rechargeable RCR123A batteries and a good charger, purchasing a 1 x CR123A led flashlight makes sense. If, on the other hand, you do not plan on owning a battery charger, it's hard to rationalize buying a single CR123A pocket or keychain flashlight – the costs seem to outweigh the benefits.
Single CR123A flashlights are a good combination of compact size and power, but you should consider their larger circumference and the expensive and difficult-to-find battery before making your purchase.
5. The 1 x 18650 or 2 x CR123A LED Flashlights
If you would like an extremely powerful light in a compact size, this category of led flashlight may be worth looking at. You will perhaps spend a long time weighing up the different models because there is a wide diversity of output, runtime, battery configuration, weight and price.
First of all, some lights only run on 2 CR123A batteries or their rechargeable equivalents. Others may also be powered by both CR123A batteries or a single 18650 lithium ion rechargeable.
They have an output ranging from 200 to 350 lumens and more, and all of them have at least 3 brightness levels as well as strobe. The runtime on maximum varies between one hour 20 minutes and more than three hours, but most manage at least two hours.
These flashlights can weigh between 112 and 210 grams (without batteries), but around 160 grams is more typical. The price band is rather wide: between $50 and $150.
The length is about the same as that for 1 x AA led flashlights, usually between 13 and 16 centimetres.  However, these lights are always stouter, so it's important that they come with a holster or clip to carry on your belt.
Obviously, such brightness, runtime and portability make these led flashlights a tempting proposition for the serious outdoor user. There are, however further advantages. For one thing, they can light further and longer than their 2 x AA counterparts. You can expect at least 100 metres of usable light. This means you will be able to make out smaller objects (your cat, for example) from where you are standing.
Moreover, you sometimes have a choice between 2 different battery configurations. What is more, functions such as strobe and SOS are often incorporated as standard in this category of led flashlight.
A brief word of warning, though: several of the latest 18650 models have a so-called turbo mode offering 600 lumens or more. Some of them should be regarded with scepticism for the following reasons.
First of all, they may not be able to light this brightly for more than five minutes, making this mode rather impractical in the real world.
Secondly, such lights may become too hot for the user to hold for more than a few minutes.
More importantly for potential users, not all of them are able to light so powerfully with certain kinds of 18650 batteries. Obviously the manufacturer will not trumpet these shortcomings on their homepage, so it may be wise to check on led flashlight forums to see what torch owners think about their purchases.
A good 18650 led flashlight may be indispensable for those needing to light longer distances such as hunters, police officers, security guards, and search and rescue staff. Apart from that, it could also be well suited for people spending longer periods outside, where runtime and output is very important. You may be from the camping, hiking, fishing, biking, kayaking or mountain climbing fraternity.
Unless you own several acres of land, this is not really a suitable light for general household use. For one thing, the brightness, even on lower levels would be pure overkill if the lights suddenly go out. For another, such a tough light demands to be used outside rather than waiting for the emergency call-up in your kitchen drawer.
The 13 Features of Most Best LED Flashlights
Most premium led flashlight manufacturers will offer some or all of the following features: different output levels or IBS, strobe, SOS, automatic memory function, reverse polarity protection circuit, lockout function, a selector/control ring, strike bezel, and waterproof capability.
1. Output Levels
These days it is almost compulsory for manufacturers to offer at the very least a high, medium and low output level on their torches. You may need all of these. However, it is highly unlikely that these different combinations will be ideal for every user. For example, some users may complain that the low level is not bright or dim enough. Others may think that the medium level is too close to maximum output.
In addition, you may want to think about how you switch on these levels. Some users prefer the led flashlight to switch on to the highest or the lowest level first, depending on their needs. If there is one output that you will need more than the others, it will be important that you can access this quickly, rather than cycling through all the different outputs till you reach the one desired.
2. Lumens / Luxeons
Lumens refers to the total light output, or how much light is in the complete beam. Please do not confuse this with how far the torch can light or 'throw'. A led  flashlight which boasts 300 lumens may have a shorter lighting distance than one with 230 lumens.
As an example, the light with 300 lumens may have a very broad and bright beam for 70 metres, but the 230 lumens led flashlight may light further if it has a bright narrow beam.
If you are interested in the distance that can be lit up, it may be worthwhile to check the lux value of the light on maximum output. This measures the hotspot (the brightest part) of the beam. The higher the lux value, the more intense the beam will be, and the further it will illuminate.
While searching for your light, you may come across the term OTF lumens. OTF means out the front, in other words, the actual number of lumens that are exiting the front lens of the flashlight. Manufacturers have a tendency to exaggerate the number of lumens that a flashlight can produce. One way in which they can do this is by testing the number of lumens emitted by the LED in perfectly sterile laboratory conditions. What they fail to mention is that lumens can be lost between the LED and the measurement device as the beam of light passes through the reflector and lens, not to mention dust and any other obstructions.
OTF – if you believe the manufacturers – is supposedly a more honest calculation of how many lumens are truly coming out of the light. Don't forget, however, that OTF can be measured in a manufacturer's laboratory.
3. Lighting Distance
As well as needing a torch to light your way, you will probably be interested in finding out how far it can light. Manufacturers will treat you equally when providing this information: they all exaggerate hugely. Refreshingly, though, if you divide their wishful thinking by two, you will have a good idea of the lighting distance. For example, if they say a led flashlight can light up to 100 metres, then 50 metres will be more realistic.
This may sound flippant and unscientific but it actually works with most lights we have tested.
Those retailers who simply repeat the company figures have either not tested the torches themselves, or are knowingly quoting false information.
Regardless of whether the light has a floody or tight beam, you should expect a minimum of thirty, fifty and eighty metres lighting distance respectively for 1AA, 2AA and 18650 powered lights.
4. IBS (Infinite Brightness Setting)
If you are not satisfied with the preselected outputs of the manufacturer, you may want to consider a best led flashlight with this feature.
All it means is that you can set the brightness level yourself, ranging from a very low level to the maximum. For example, suppose you have a flashlight with a maximum output of 240 lumens. You can choose any brightness level from a low level (perhaps a few lumens) to the very highest. The light will then memorise this level when you switch it on again. Most lights with this function now allow you to program different levels.
This feature enables you to spare your batteries and operate with a longer runtime, as you will not be using the light in a higher mode than you actually need.
5. Strobe
This is designed to transform the led flashlight from a lighting instrument into a self-defence weapon. When the flashlight is on strobe, it has the random blinking function of disco lights and is meant to temporarily disorientate an aggressor. It could possibly work if your attacker is patient enough for you to take out your flashlight, find the strobe output and then shine it in his eyes.
MORE: How To Get The Best Tactical LED Flashlight (GUIDE & RECOMMEND)
One situation where it may prove useful is for scaring away pesky animals, but I have never tested this. Some users may see strobe as a marketing gimmick while others regard it as an indispensable feature.
6. SOS
With this feature the torch converts into an emergency signalling mode to let other people know that you are in danger. This is an absolute must-have function if you have a profession or hobby where you may be exposed to life-threatening situations.
7. Automatic Memory
This simply means that the flashlight remembers the last output you used before you switched it off. This is very useful if you use one output more than others.
8. Reverse Polarity Protection Circuit
With this function you won't destroy your best led flashlights if you insert the batteries in the wrong direction. It's obviously good to have, especially if you have a led flashlight which operates with different battery configurations.
9. Lockout Function
This prevents the light from accidentally switching on while in your pocket or bag. It is usually activated by loosening the tail cap slightly.
10. Waterproof Capability
Most premium led flashlight are now waterproof to IPX-8. This is an international standard and as good as it gets. It essentially means that the torch is submersible for more than 30 minutes at a depth of at least one metre. The depth is specified by the manufacturer.
If this is true, then you can practically use your best led flashlight for snorkelling at night.
11. Control / Selection Ring
With such a ring you can preselect the output before you actually switch on the led flashlight. This is good because it eliminates the need to switch on the torch and then run through all the different brightness levels before you reach the one you need.
Some flashlights even have a ring which allows you to dim or brighten the light between the minimum and maximum output levels.
12. Strike Bezel
Another self-defence mechanism. This is a crenelated steel ring which fits around the lens. Theoretically, you can do some nasty damage if you hit someone with your torch bezel. This is perhaps more useful for protecting the lens if the torch is dropped.
13. Candle Mode / Tail Stand
This means that you can use the flashlight as a candle by placing the light vertically on a flat surface. To do this, of course, the lamp must be flat at the bottom.
Tail standing is not possible if the on/off switch protrudes out of the tail cap, or the tail cap has a lanyard ring at the bottom.
The 7 Popular Parts of a Best LED Flashlight
It's a good idea to become familiar with the main components of a high powered led flashlight before making your purchase. The parts of a best quality led flashlight contribute to the overall quality of the light, and affect the price and output.
1. The Lens
This is the relatively thin piece of glass that protects the LED. Look for a lens that is scratch-proof. Some lenses are shatter-proof, but there are no guarantees.
If your led flashlight falls off a table, the lens will probably not break. If you use your flashlight as a baseball bat, don't expect any miracles.
2. The Bezel or Head
The bezel is the head of the flashlight, the part that screws on to the body and encases the lens, reflector, and LED.
Some people refer to the bezel ring as the bezel. This is also correct, and it can lead to some confusion. The bezel ring is usually the most forward part of the best led flashlight. Typically this ring is made of stainless steel or aluminum. It's purpose is both to protect the head of the flashlight and the lens. Some bezel rings are removable.
3. The Reflector
The reflector is the concave, shiny, mirror-like part inside of which sits the LED. The reflector focuses and redirects the light outwards through the lens.
The are two types of reflectors: smooth and orange peel.
A smooth reflector produces a longer tighter beam.
An orange peel reflector produces a wider and smoother beam.
You can tell the difference between the two by looking closely at the reflector. If the reflector looks bumpy, it's an orange peel.
4. The LED
LED stands for light emitting diode. It's the modern version of the bulb, but the technology is much different. A LED can produce a large amount of light and last for thousands of hours.
One company holds a near monopoly on the premium flashlight LED market – Cree. Other manufacturers are Seoul Semiconductor and Luminus, but Cree dominates. You should look for a light that features an LED from one of these manufacturers. Like most technology, LEDs are improving all the time, both in terms of output and life expectancy. Do some research and make sure that your light features a recently produced LED.
5. The Circuitry and User Interface
Modern led flashlights require electronic circuitry to convert battery power for the LED. The circuits control the amount of energy transferred to the LED. Closely related to circuitry is the term user interface or UI.
The user interface refers to the combination of twists and clicks that you employ to switch between the various light levels or modes. The circuitry is in charge of translating twists and clicks into energy and bringing that energy to the LED.
6. The Body
The led flashlight body holds the batteries or battery. The body size and shape depends mainly on the battery requirements. You will also notice a variety of grips ranging from knurled (studded diamond shapes) to perfectly smooth. Four body materials are common today: aluminum, plastic, titanium, and stainless steel, with aluminum being the most popular by far.
— Aluminum is strong, light and inexpensive.  Aluminum bodies can be anodized, that is, colour coated. Most aluminum lights are type-II anodized. This means that the paint will not chip off, but it might be scratched. Some flashlights are type-III anodized. This is an even stronger coating and will last for longer.
— Titanium and stainless steel bodies are popular for two reasons: they are more scratch resistant, and they look luxurious. Expect to pay quite a bit more for a stainless steel or titanium flashlight.
— Plastic flashlights are a thing of the past. Compared to aluminum, plastic is far less durable, and there is no significant weight difference. Premium flashlights are not produced with plastic bodies.
7. The Switches and Tail
The tail or tail cap is screwed on to the bottom of the body. Most tails also act as switches allowing you to turn the light on and off and toggle through the light modes. Some flashlights are operated by pressing a switch on the body, others by turning the bezel.
When purchasing a best quality led flashlight, you should consider the user interface and how it will affect your use of the light. A click switch on the tail or a switch on the body will usually allow you to operate your flashlight with only one hand, a big advantage when holding a fishing rod or a set of keys, for example.
If the user interface requires you to adjust the bezel of the light, you will need two hands. Consider also that a protruding tail switch will prevent the light from standing like a candle.
Some popular LED Flashlight Accessories
a. Belt Holsters
Many premium led flashlights are sold along with a belt holster. Holsters provide a convenient way to carry your light, and they offer some extra protection too.
Most holsters are made of nylon, a few are made of leather. If a holster is important to you, check the quality of the velcro and the stitching, as these tend to wear out quickly.
b. Filters and Wands
Filters and wands convert the led flashlight's normal light into different colours. You can use filters and wands for signalling, directing traffic, hunting or in emergency situations. Don't try landing aircraft unless you are a professional.
c. Bicycle and Gun Mounts
Many manufacturers sell mounts for bicycles, weapons, and cameras. Make sure that the mount you purchase will securely hold your flashlight's shape and size. Not all mounts will hold all sizes of lights.
d. Remote Pressure Switch
A remote pressure switch allows you to operate a led flashlight that has been mounted on a weapon or camera. The term "remote" should not be confused with wireless, as many manufacturers would like you to believe.
e. Pocket Clip
The pocket clip secures the body of the flashlight to the inside of your pocket. You can also use the clip to attach the light to the bill of your hat or inside your bag. Many people find the pocket clip an annoying accessory and remove it immediately.
Others appreciate the extra security and convenience that a pocket clip provides. You can decide for yourself, but make sure that the clip is strong and that you can easily remove it when necessary.
f. Lanyard Cord
As with pocket clips, some people like them, others hate them. A removable lanyard cord is provided with most premium flashlights. It's an easy way to hold your best led flashlight and attach it to your belt or bag without adding much weight and is especially useful for boaters or climbers. Lanyards come in different lengths. Make sure yours is long enough and strong.
g. Battery Cases
Battery cases are a simple way to organize and carry your spare batteries. There are a wide range of shapes and sizes available. Choose a case that prevents the batteries from rattling around and making a lot of noise.
Common LED Flashlight Batteries
1. The AA battery
Many premium led flashlights run on either one or two alkaline AA batteries. Some high-powered lights run on six or even eight AA batteries. There are two advantages to AA batteries: They are relatively inexpensive and can be purchased just about anywhere. However, rechargeable AA batteries and a good charger will save you a lot of money in the long run.
It is important to be aware, though, that conventional NiMH rechargeable batteries have a very fast self-discharge rate. Typically, they will lose 1% of their capacity every day. This means that after three months you will have to recharge them.
For those who only use their led flashlight occasionally, it may be worth looking at batteries with low self-discharge rates. They have three distinct advantages.
First of all, they only lose as little as 15% of their capacity after one year.
Secondly, they come pre-charged, which means you can use them immediately.
Thirdly, you don't need to buy a special charger for them.
There are several companies, such as Sanyo Eneloop, Sony, Duracell and Energizer which offer them, so it may be worth checking online review to see how they compare. You should expect to pay $15 for a pack of four.
2. The AAA battery
This tiny, lightweight battery is typically used to power smaller keychain lights and headlamps.
Generally speaking, AAA alkaline batteries are inexpensive, but do shop around and compare price and performance. You may find that some cheap supermarket batteries are just as good, if not better than their more expensive counterparts.
I would, of course, always recommend that that you buy a decent charger and a set of NiMH rechargeable batteries for any led flashlight. As mentioned above with the AA batteries, the occasional user may find rechargeable batteries with low self-discharge rates more attractive. These will cost you about $6.50 for a pack of four.
3. The CR123A battery
This is a very common lithium battery for high powered flashlights. The CR123A is sometimes called the camera battery because it can be used to power a camera's flash.
The CR123A is a little bit shorter than an AA battery and slightly fatter. The main advantages of a CR123A battery over an AA alkaline are that the CR123A is more powerful, lasts longer, has a much longer shelf life than alkaline batteries (about 10 years with very little self-discharge), and works better in cold climates.
The disadvantages are that CR123A batteries are more expensive than the common AA battery and difficult to find in stores. In fact, you'll probably have to purchase them online. A rechargeable version is also available, namely the RCR123A.
If you have money to burn, look for a store which sells them and buy a nicely-wrapped single battery from a well-known company. I found one store in my city which charges $7.95 per battery.
MORE: Understanding about CR123A Rechargeable Battery for Led Flashlights
For the more price-conscious among you, you may want to trawl ebay to find 4 batteries for $4.95.
4. The 18650 battery
This is a lithium ion rechargeable battery which is popular amongst flashlight enthusiasts because it packs a lot of power into a small package. The number refers to the diameter (18mm) and the length (65mm).
An 18650 is about the size of two CR123A batteries, and produces a similar amount of energy.  This is the most expensive of the common led flashlight batteries, but generally worth the investment. Not all high powered led flashlights can take the 18650, so check before you buy.
MORE: Understanding about Best 18650 Battery for Led Flashlights
Expect to pay about $25 for a charger and a single battery.
5. The 10440, 14500, 16340, 17670 battery
These are rechargeable lithium-ion batteries. The first two digits refer to the diameter of the battery, the following two to the length and the 0 merely indicates that it is cylindrical. For example, the 14500 battery is 14mm wide and 50mm long.
Such batteries are normally only used by hardened flashaholics because they can sometimes make the light brighter than conventional batteries. The 10440, 14500, 16340 and 17670s are approximately the same size as their AAA, AA, CR123A and 18650 respective equivalents.
There are certain disadvantages to these exotic alternatives. For one thing, they are more expensive. For another, they are only recommended for certain led flashlights.
In addition, when they are approved for use, they will usually provide a much shorter runtime (sometimes only several minutes) than conventional alternatives. They may also generate a lot of heat in the light.
LED Flashlight Checklist (18 Questions Ask Yourself)
Once you have decided what you need the best led flashlight for, (the most important consideration) you may like to think about the following factors:
1. Do I really need a premium LED flashlight?
There are some attractive-looking offers in discount supermarkets and hardware stores. In general, though, the cheaper price will get you a light with inferior materials, less waterproof protection, little or no impact resistance, a shorter runtime for your batteries and less output.
2. Household batteries or Lithium rechargeables?
Generally speaking, the best led flashlights powered by a single 18650 battery or two CR123A batteries will light further and longer. However, their AA counterparts are usually more than adequate for the non-specialist user.
3. What's about of operation?
If you are satisfied with two light levels, you will be well-served with a twisty bezel torch. Anything more makes switching between modes rather tiresome.
A control ring is easier to use, and a switch-operated light is even easier because of the one-handed operation. You should expect to pay more for these options.
4. Do you need many different modes?
Six different light levels with strobe and SOS may seem attractive, but this could entail a mini workout for your hands. If you need to be very flexible, it may be worth considering a light with IBS, where you determine the light level.
5. Is it important for you that the light switches on in high or low first?
A quick check on the manufacturer's website will help you.
6. Are blinking functions such as strobe or SOS necessary?
Many people would answer no here. If you're not sure, some producers have incorporated these as hidden modes so that they are not activated when toggling through the different light levels.
7. Do you need the light as an EDC?
Remember that you will be carrying this every day and everywhere. Many people would only consider a keychain led flashlight, i.e. with a maximum of  about seven centimetres in length for this purpose.
However, single AA and CR123A led flashlights will also fit comfortably in a jacket pocket.
8.  Should the light be waterproof?
If so, do not accept anything less than IPX-8 for a premium led flashlight. This is standard nowadays and means that your best led flashlight can be submersed in at least one metre of water for 30 minutes. Avoid any self-serving expressions such as 'very splash proof' or 'extremely waterproof'
9. What is your maximum budget?
It would be a great mistake to betray this to any retailer, as their main motivation is parting you from as much cash as possible. Focus on what you need and do your research to find the best value. Expect to pay between $40 and $100 for a non-keychain flashlight.
10. Thrower or Flooder?
Modern lamps tend to be floodier than yesteryear. It is difficult to say whether this is a passing fad or a long-term trend. If you are looking for a led flashlight to illuminate medium distances, then you may want to consider anything with an CREE XL-M LED. If you want to light further, an XP-G LED would be a better option.
11. What's about accessories?
Some companies offer a vast array of extras such as lanyards, holsters, filters, wands, extenders, remote pressure switches, gun mounts etc. Most charge extra for these, while others throw in a couple of goodies for free. Nearly every company sends spare o-rings with the best quality led flashlight.
12. Do you need candle mode?
For campers particularly, this is a desirable option. If the tail switch juts out from the end, candle mode will not be possible.
13. Which Colour?
Would you like pink or ocean blue? Then perhaps you should look for a beach bag rather than a led flashlight. Most companies only offer black led flashlight, or occasionally grey and olive-green. The main exception here is for keychain flashlights, where there is sometimes a wider variety of colours.
14. What type of Power?
As well as the traditional alkaline, lithium and their rechargeable equivalents, you may find some best led flashlights which can be solar-charged or even charged from your computer or car.
15. Guarantee
This can vary a lot from one to two years or limited lifetime. The no-quibble replacement policy generally varies between 7 and 30 days.
Avoid any company which makes the guarantee validity dependent on the battery brand used.
16. Should I order online or go into a store?
There are several advantages to the old-fashioned bricks and mortar shop. You can try out the light to get a good idea of the brightness. More importantly, you can test whether the user interface is as easy as you imagined. You also have a contact person who won't give a three-word reply to your questions. If the location is nearby you can also have the light on the same day.
The main advantage to buying from an online store is cost. You may, however, be running the risk of late or non-delivery or poor after-sales service.
17.  Is the dealer any good?
It could be useful to check on flashlight forums or Google if the dealer enjoys a good reputation regarding pre- and after-sales service, speed and cost of delivery, returns policy etc.
Any dealer who has merely copied and pasted the manufacturer's own description of the light should be treated lightly.
Serious retailers will put a lot more thought into their presentation. The best ones will even point out weaknesses of products if you ask them.
Never start a business relationship by ordering a led flashlight. Email the retailer first with a few questions. Depending on the speed, detail and content of his replies, you can then decide how to proceed.
18. How can I trust the LED flashlight blogs or reviews?
Many LED falshlight reviews are written by retailers with too much emphasis on the positive aspects of a flashlight. They are, thankfully, often transparent in their approach. Those who praise every flashlight and its manufacturer with glowing superlatives and glossy product presentations are clearly anything but amateur LED flashlight enthusiasts.
Similarly, some reviewers, (including ourselves) receive LED flashlight to lend or keep for testing purposes. Some of them will unashamedly advertise the product. Others may feign objectivity by pointing out irrelevant weaknesses such as the torch only being available in black or the fact that a lanyard is not supplied – in the full knowledge that this will have zero impact on a buyer's decision.
Obviously, I have to be less scathing in my criticism than if I had bought the product, but I never shirk from such criticism if weaknesses are apparent. My retail partners know this and realise that criticism lends credibility to the review.
On forums, you should beware of anyone who seems to be there whenever you visit, or who regularly posts links to a certain homepage. Such writers may also rubbish one torch manufacturer at the expense of another. These people are conducting an unofficial marketing campaign.
LED Flashlight Glossary
1. Artifact
An artifact refers to an imperfection in the beam of light emanating from the led flashlight. When the beam is directed at a solid object, such as a white wall, an artifact will appear as a dot or speck in the beam, or as a distortion of the beam itself.
2. Bezel Ring
Another term for strike bezel – a crenelated steel ring which fits around the lens and may be used as a self-defence mechanism.
3. Clicky
This means the flashlight is operated via a switch which clicks when you press it.
4. Corona
This describes the area between the spot and spill in a beam. Sometimes there will be no corona as there is no 'in-between' area.
5. Diffuser
This is an accessory which is sometimes supplied to make a light's beam smoother. This is useful if you want to transform a thrower light into a flooder.
6. Drop-in
This is a spare part consisting of an LED and reflector which can be screwed into an existing lamp in order to provide you with an inexpensive upgrade.
7. EDC
EDC is an abbreviation for every day carry and refers to the items that you would take with you everyday and everywhere. Small torches and Swiss Army knives are popular EDC items.
8. Flooder
A led flashlight which will brightly illuminate near and medium distances. Extreme flooders will have a smooth beam with no hotspot. Usually, however, there is at least a weak hotspot in the middle of a smooth wide beam.
9. Forward Clicky
This is a switch on the tail cap which clicks when you press it forward. This makes momentary activation possible, ie, you can provide a short burst of light in silence by pressing the switch but not clicking.
10. Hotspot
The brightest part of a beam. The brighter the hotspot, the further the light will illuminate.
11. Momentary Activation
This gives you a short burst of light by gently pressing the tail cap switch. The light will switch off as soon as you let go of the switch.
12. Protected Battery
This has a built-in mechanism to protect the battery from short circuits, overcharging and over-discharging.
13. PWM
PWM stands for pulse width modulation. It's a very fast strobe effect, faster than the human eye can detect (in most cases). Some torches utilize PWM to lower the light output for low and sometimes medium mode. In theory, PWM should save battery power because the LED is actually being powered off.
14. Regulation
A flashlight that is regulated has electronic circuitry that connects between the battery and the LED. These circuits regulate the amount of power leaving the battery and arriving at the LED. Regulation allows the flashlight to produce a uniform level of light output over the life of the battery.
15. Reverse-Clicky
This will only provide light after you have pressed the switch until it clicks. This means that momentary activation is not possible.
16. Smooth (SMO) Reflector
A light equipped with this kind of reflector will have a more intense hotspot and will light further than one with an orange-peel reflector.
17. Spill Beam
The spill is the wide outer circle of light that surrounds the hotspot and the hotspot's corona. The spill is the widest and least concentrated (faintest) part of the beam.
18. Thrower
Throw is the distance that a torch can project its light. A thrower refers to a torch that casts a beam of light exceptionally far in relation to the torch's size and power source.
19. Twisty
This means you access the different modes by twisting the bezel.
20. (UI) User Interface
As mentioned in the guide, this merely describes how you switch on the light and access the various modes.
Conclusion
There are different kinds of best led flashlight for different uses. This is essential information for you because you will not want to waste lots of money on something you will be underused or be unable to use.
In addition, you should read online led flashlight reviews of purchased-customers from authority website such as Amazon.com for best led flashlight types and models that you intend to buy.
You've taken the right steps already for get best led flashlight in reading this. Keep looking and good luck!